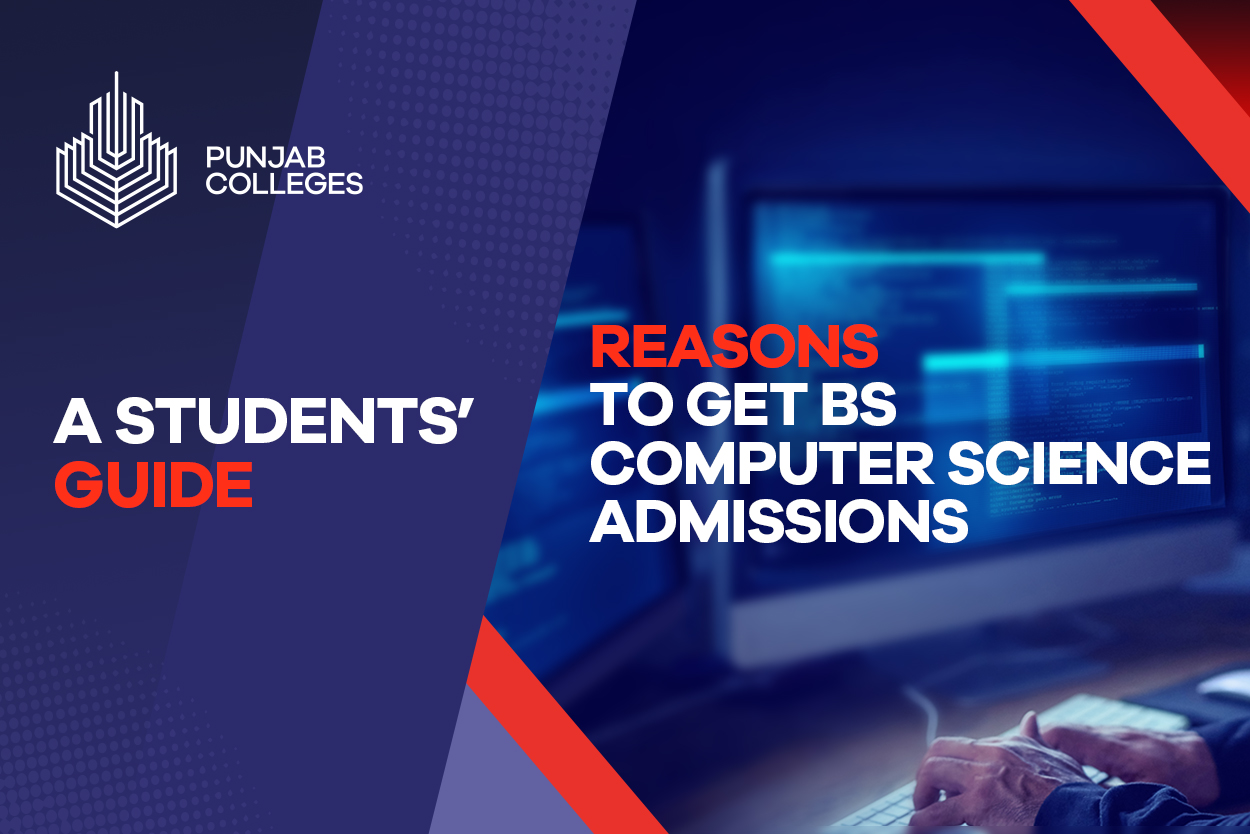 In this digital age, we can see that computer science is developing at a fast speed. In fact, computing and computer technology are part of our daily lives now. Thus, keeping up with it might not be as easy now as it was when there was not so much speed. Well. this is only one of the reasons why you should search for the best BS Computer Science admissions. This guide will discuss the top reasons to pursue your education and get a bachelor's degree in computer science! 
Helps You Pay Attention to Details
Do you know that even one terrible line of code is enough to make a bug or a security break? This is the reason you will need a great deal of persistence to experience experimentation on many occasions until you can make the best outcome.  
Well, great individuals with bachelor's degrees in computer science have learned how to pay attention to details. With this expertise, they can represent or break the application or programming program.  
Provides Better Job Opportunities
No doubt, technology and Artificial Intelligence are automating more processes. With the industry innovations we see along with technology, there might be an increased unemployment rate. However, when you decide to get Admission in BS Computer Science and have the knowledge, your job should be safe for many years to come. 
In addition, by having a computing major, you will get a solid foundation of knowledge, problem solving, and logical thinking. All these skills will serve as a competitive advantage to you in your career, in whatever field you choose. 
Moreover, creating high-quality computing solutions is a highly creative activity. In this context, computing supports creative work to help you be active in many other fields. Hence, getting BS Computer Science admissions and being expert in computing will surely help you grow, even if your initial career choice is something else. 
But wait, how many job opportunities can you get from studying computer science? 
Have a look at some popular career prospects below!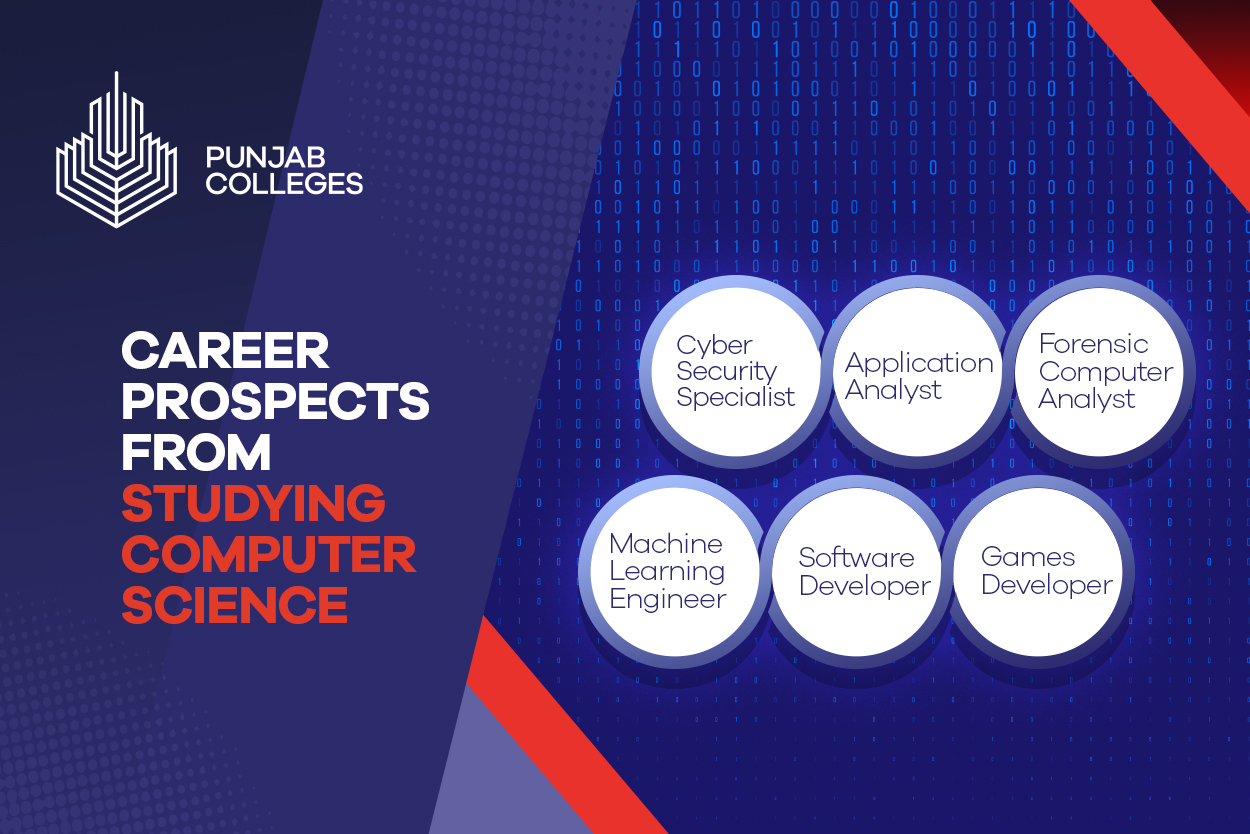 Cyber Security Specialist

 

Application Analyst

 

Forensic Computer Analyst

 

Games Developer

 

Machine Learning Engineer

 

Software Developer

 
A Bigger Salary to Expect
The continuous expansion of innovative technologies leads to a constant demand for bright tech-minded individuals. Yes, many businesses today require individuals who can make, continue, and fix both code and gadgets. Hence, it is no longer a secret if we say that careers you can pursue from getting a BS in Computer Science admissions can give you a nice living.  
In other words, computer sciences are in high demand these days. Accordingly, the bachelor's in computer science who applied for jobs can get a bigger salary with the highest application offer rate.  
Taking Part in a Fast-Growing Industry
You might have seen that computer-related service job development has been increased to a degree by outsourcing nowadays. However, the industry seems to be still in a distinctive form. Accordingly, we should note that the computer systems project and connected services business are included in ten growing industries in many countries. Eventually, the skills and knowledge you will get from pursuing Admission in BS Computer Science will help you see the most acceptable job prospects.  
In brief, computing is often about being part of a team requiring people with many different skills. On the other hand, there is also plenty of space for individual flair and imagination. So, basically, computing is an essential part of well-rounded academic preparation. This is why we can see an increasing number of universities. Besides, many employers see the successful completion of BS Computer Science admissions as a sign of academic well-roundedness. Eventually, by getting a bachelor's degree in computer science, you can take part in this fast-growing industry.  
Future Opportunities in Computer Science Are Without Boundaries
Computer science is one of those fields where we can say that it is almost impossible to predict what will happen next. Simply put, we cannot even begin to imagine all the ways that you can contribute to it and how it can make your life's work exciting and real. However, in these modern days, technology has made the world better, faster, and more connected. This can be described by the necessity of individuals who are specialists in this field and the future opportunities that come without boundaries. 
So, when you get the best BS Computer Science admissions at UCP Colleges, you will get inclusive scheme of studies. All these studies will further help you to get the right skills and expertise you need to get better job opportunities.  
What's more, BS Computer Science program at UCP Colleges aims to prepare you in solving modern problems. Ultimately, students majoring in Computer Science will be ready to pursue great career opportunities in the IT sector. 
Why Should You Choose UCP Colleges?
UCP Colleges has opened a world of infinite opportunities for many students. We have the main goal to equip students with a well-rounded educational experience.  
Here's why you should choose UCP Colleges! 
World-class faculty

 

Well-equipped labs

 

15+ diverse programs

 

Available in multiple cities across Punjab

 

Prestigious degrees

 

Multiple

scholarships

 
Get Your BS Computer Science Admissions Today!
Considering the job opportunities, you can get by getting BS Computer Science admissions, there is no reason to wait any longer now. Instead, you should get your admission today at UCP Colleges.