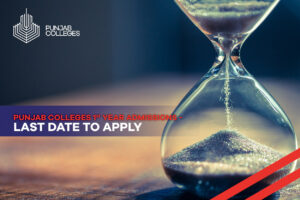 PGC ensures you receive a premium education as the intermediate years are very crucial in your academic journey. Our intermediate admissions started right after the matric result was announced. However, Punjab Colleges' 1st year admissions last date is near. So, if you still have not enrolled yourself, now is your chance.
Why the Punjab Group of Colleges for Intermediate Education?
Punjab Colleges have a history of securing over 450 positions across all educational boards. Not only this, we have a network of alumni who are doing great in their chosen fields. Some are working in high posts in Pakistan, while others have gone abroad and are living their dreams.
So, if you want to know why you should choose PGC for your HSSC, we have multiple reasons. Keep reading to find out.
Facilities for PGC Students
You will always receive first-rate educational resources from Punjab Colleges. We will assist you in your pursuit of a career as a doctor, engineer, or entrepreneur. As a Punjab group student, you will have access to the following important facilities:
Highly Experienced Faculty
PGC takes pride in having highly skilled instructors who hold degrees from some of the most prestigious institutions in the world. Since you will be studying under the guidance of our instructors, they will prepare you for the intermediate examinations as well as your professional life.
The faculty also ensures that your preparation is up to par by taking tests and conducting internal assessments in accordance with BISE guidelines. Consequently, you will be able to test your papers successfully and you will get good scores.
Purpose-Built Campuses
PGC is the best institute to study FSc in Lahore. With every educational facility at your disposal, we have 423 campuses spread over 118 cities in Pakistan. You will be studying in well-equipped classrooms. We also have air-conditioned libraries to provide you with all the learning materials and a comfortable environment.
There are clean cafeterias where you can have lunch and hang out with your college friends during your break. In addition, we have security guards stationed at each campus gate to assure your protection. Enrol yourself at the nearest campus before Punjab Colleges' 1st year admissions last date. 
Fully Equipped Laboratories
Our campuses are equipped with advanced laboratories. You will have access to the latest equipment. Our labs have everything from cutting-edge computers to fully equipped science apparatus. Our experts will also accompany you to the laboratories to instruct you on how to use the instruments.
Microsoft Certifications
Our collaboration with Microsoft enables us to provide free Microsoft Office Specialist (MOS) certifications. You can learn to use Microsoft Word, PowerPoint, and Excel without investing a penny. However, you need to be a part of the PGC community for this. The Punjab Colleges Intermediate Admissions Last Date is near. So hurry up before it is too late.
The PGC App and Online Portal
Punjab Colleges has created a learning app for its students called PGC. You may now study and learn from the convenience of your own home. You will have access to video lectures, MCQs, and past papers that have been solved.
As a result, you will be able to study for your tests during your most productive hours. You can also use the app to ask professors questions and receive a quick response. Only PGC students have access to our e-learning app. In addition to the app, you can obtain all of the study materials you need for exam preparation on the PGC online portal.
Campus Life
To provide a balanced campus life, we provide a wide variety of cultural, educational, and social programs. Every year, we host funfairs and festivals where you can exhibit your artistic abilities. Additionally, we organize enjoyable and educational tours under the supervision of our experienced staff.
We arrange welcome and farewell parties to celebrate your presence at our institute. Along with attending seminars and workshops, you will learn from skilled and inspirational speakers about their real-life experiences. However, you cannot benefit from any of this if you miss Punjab Colleges Intermediate Admissions Last Date. 
Furthermore, you can also discover your hidden talents by joining numerous societies and clubs. Some of them are as follows:
Debating Society
Music Society
Dramatics Club
IT Club
Health Awareness Club
Islamic Society
Sports Activities
Sports, as we all know, are essential to extracurricular activities. As a result, PGC provides a variety of activities in which you can participate. Furthermore, several sportsmen and artists, including Wahab Riaz, Hassan Ali, Abrar-ul-Haq, Atif Aslam, and others, are also among our alumni.
Sports activities include the following:
Cricket
Volleyball
Kabaddi
Boxing
Swimming
Football
Thus, go to your nearest campus before Punjab Colleges' 1st year admissions last date arrives and become a part of our growing community right now.
Scholarships and Incentives
The Punjab Group of Colleges believes in rewarding students for their hard work and excellence. That is why we provide scholarships to students. Additionally, we provide the option of fee concessions if you are unable to pay for your education.
Here are some of the incentives we provide:
Merit-Based Scholarships
Shuhda's Children
Students with Special Needs
Need-Based Concessions
Orphan Students
Kinship
Special Circumstances Financial Aid
Incentive Policies for Matric Students
Punjab Colleges 1st Year Admissions Last Date Coming Soon!
If you want a high-quality education with a vibrant campus life for your intermediate years, then PGC is everything you wish for. However, the admissions are closing soon. Every campus has a different last date for Intermediate admissions. So, you have to visit the campus in your area and find out about the last date to apply before it's too late.
For more information, contact us at info@pgc.edu.