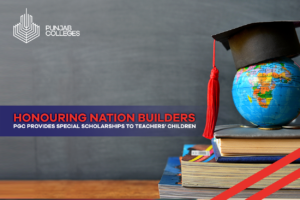 Punjab Colleges strongly believes that any child's education must not be compromised at any cost. Especially not due to the financial burdens. Therefore, the Punjab Group of Colleges offers numerous scholarships. Hard work and needs are all well-addressed by the Punjab group to serve the purpose of education in Pakistan. 
In addition to awarding bright students, the Punjab Group of Colleges (PGC) holds massive respect for teachers. The institution has always tried to stand beside the teachers for their support. Punjab Group of Colleges provides a special concession to the children of parents who are teaching in any capacity nationwide. This is apart from merit-based, needy-based scholarships to students.  
Therefore, the students at PGC can get an honorary concession at the time of admission if their parents or guardians are related to the teaching profession anywhere in Pakistan. The teacher's Child Scholarship has always served as a humble gesture of appreciation from Punjab colleges to those who are the architects of younger minds.   
You can look at the complete details of the teachers' child concessions with other scholarship options on the official page,  available here.